Wondering who is GULLYBABA?
Ever since Gullybaba became a household name, people from almost every age group and every caste and creed started raising a question, "Who is Gullybaba?" ,This curiosity level can be compared with Sherlock Homes. People were excitedly anxious to know as to where is Sherlock Homes, what does he look like, how he became so intelligent, what made him so accomplished detective, so on and so forth. And when people came to know that it is the fictitious character created by Arthur Conan Doyle, people heaved a sigh of relief.
Revealing of Gullybaba
The time has come now to raise curtains from Gullybaba as well. Gullyba as the name suggests is the perfect blend of Gully and Baba. The word Gully has come from an ancient India play Gully Danda (Tip-cat) which symbolises focus and fitness. Another word "Baba" is a term of respect or endearment.
And hence Gullybaba is the embodiment of
Do read "wandering why name Gullybaba" to know the exciting origin of this name. We promise you will be thrilled to know.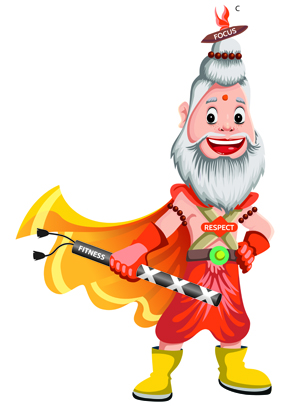 Background of Superhero of Kids | Gullybaba
For those who are inquisitive to know as to how he got endowed with all these things, here is the background of Gullybaba. Gullybab was genius by birth. Since he born in ancient India, he used to play Gully Danda. Since his concentration and fitness was phenomenal, he was exceptionally good at playing this game. Mental sharpness was his another major quality that made him famous as Gullybaba.
Qualities of Inspiring Indian Superhero Gullybaba
He was such a gifted child that he could have earned very respectable job and life for himself. But, his own appreciation was not enough for him. He was more concerned about his friends, the children in society. He wanted them to be a quick judicious decision-maker, know how to take their priorities high, plan their goal intelligently and above all to remain fit and focused to what they want and get respect in their respective fields.
Journey of Gullybaba
One day, as he was thinking deliberately about the ills of the society, one elder person said to him, "Meditation is what connects a common man to captivating universe; and makes him capable of doing what he is willing to do." It was now a Eureka moment for the kid Gullybaba. He decided to move to The Himalayas—the ultimate place to perform meditation. He started for the Abode of Snow the very next day.
Gullybaba Living Style
He delved deep into meditation there. Years passed like minutes. Now, this Baba had turned to a Real Baba–an elderly-aged person. One day, when he was still in meditation, he felt intense light around his body. He opened his eyes; he felt as if the beam of light is asking for his permission to enter to his body. He bowed his head in reverence for the light.
Now, Indian Superhero Gullybaba felt as if the spectrum of light has entered in his body. The moment after he could feel it, he had become sagacious. He felt, " fitness and focus of highest degree". He now had the foreknowledge of what ailed the society along with their remedy. He decided to use his divine power for the greater good of the society. Soon, he became the asset of the children and his contribution towards them earned him enormous respect.
Now, Gullybaba is one who is the Epitome of Focus, Fitness and the one gets maximum Respect from the children